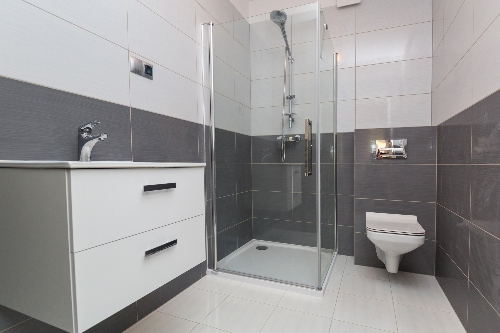 Size and value tend to go hand-in-hand. Bigger is not always better if that isn't right for you. When you begin to think about remodeling your home, you might be looking to change your bathroom situation. But you have options; do you go for a half or a full bathroom remodel? Should you turn a half into a full? It all depends on your family's wants and needs.
In this article, we'll take a look at half and full bathrooms comparing what you get out of each and the value they bring to your home.
Full Bathroom Breakdown (1 Bath)
A full bathroom is where you can get all your toiletry needs handled. To be a full bath, a room needs to have a sink with running water, a toilet, and a shower or bathtub. Full baths are great on the upper floor near the bedrooms. Sometimes, listings will show a shower only as a ¾ bathroom, however many list a room with either a bathtub or a shower as being a full bath.
The minimum size for a full bathroom is 40 square feet. Most building codes require 32 square feet for the shower, leaving the last 8 square feet for the bathtub. With that being the minimum size required, the average size of a full bathroom is in the range between 40 and 60 square feet. It all comes down to your style, the space available, and your budget.
Full Bathroom Remodeling Cost
Renovating a full bathroom comes with a higher cost than other sizes. Many full bathroom remodels will run anywhere from $12,000 to over $16,000 depending on the size, style, and materials you choose as well as the age of your home and any complications that come up. These figures are on the lower, more basic range. More luxurious remodels can get up to double that price.
Half Bathroom Breakdown (½ Bath)
Now let's take away a few elements of the room for your ½ version of a bathroom. With no bathtub or shower, what you are left with is the toilet and sink. Half bathrooms are perfect for ground floor bathrooms. They work for guests who would come for an event, but wouldn't need to scrub off in a shower or to soak in the bathtub. They can also work in basements, so you won't need to make the trek all the way upstairs.
Now you have more flexibility in how you layout your room. You can opt for larger or smaller half bathrooms. The minimum size for a half bath is just over 10 square feet or about three arms lengths. Typically, half baths will be around 17-20 square feet and can go up to 30 square feet.
Half Bathroom Remodeling Cost
Half baths are a bit cheaper to remodel than their larger brothers. The price tends to drop to around $2,000 to $4,000 for a half bathroom remodel. The shower or bathtub can be one of the most expensive elements, in addition to the extra space and thus materials, time, and effort involved. Of course, depending on the type of toilet and the style of vanity you choose, the price can increase.
How will a Bathroom Remodel Impact My Home's Value?
When you add or upgrade a bathroom, the value of your home goes up. A remodel is a fix to help you feel more comfortable right away and investment in the future sale of your home. The average return on your investment (ROI) of the cost that goes into a full or half bathroom remodel is about 50 percent. This number can change depending on the materials and even the size of your bathroom.
Upgrade Your Home's Bathrooms with Trusted Designers and Builders
Whether you want to add a new bathroom or remodel an existing bathroom, the opportunity is there for you. Just about any remodeling project on your home will increase its value. Make sure to get the most out of your investment by partnering with a trustworthy contractor like those at Balbes Custom Building. We have been helping families get the homes they have always wanted for more than 20 years.