Our award-winning team will give you the bathroom that you deserve
Beautify Your Private Oasis with a Bathroom Remodel
At Balbes Custom Building, our bathroom renovation process has been perfected over 20+ years. Over these past two decades, we've understood that while bathrooms age, they don't have to stay old. Grout becomes "un-cleanable," tile color goes out of style, wood grains wear unevenly, and fixtures get that white, crusty buildup that is nearly impossible to remove. We can fix these issues and then some, updating, adding, or expanding your bathroom until it suits your utmost needs.
We'll have your current ugly and outdated bathroom look like a throne fit for a king. Our award-winning and experienced team of experts will work with you to design the perfect oasis. When you choose Balbes, you get the attention of our entire organization, from the president on down, until your job is done and you're over the moon with your new bathroom. With free quotes and available financing, there's nothing separating you from the bathroom you deserve!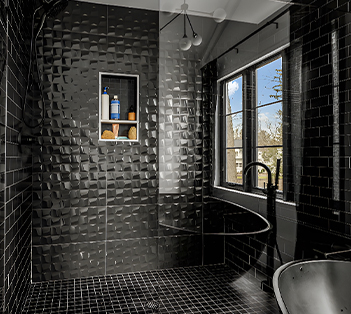 Get Your Free Estimate
---
Want to know how much your dream bathroom will cost? Get a free estimate today!
(284) 884-0590
Have Your Bathroom Designed & Built By Experts
---
Your throne room should be fit for a king. We'll build you the oasis you deserve with one of our award-winning renovations. Make your master bath larger or add a new half bath. If you're mostly pleased with your space, we can simply upgrade it with new tiling and features. With Balbes Custom Building on your side, you can accomplish your vision for your home's most intimate room.