Increase employee productivity with an improved kitchen
Improve Your Workspace with an Office Kitchen Remodel
People are more comfortable when they can work in a quality environment. Something as minimal as an office kitchen renovation can lead to an increase in employee happiness and, therefore, productivity. Balbes Custom Building has provided employers with ways to improve their offices for over 20 years in Michigan. Your employees will bond more and form a tightly-knit team when they start taking breaks in one of our renovated kitchens.
We offer free estimates and financial plans to help make your renovation affordable. For projects of any size or scope, you'll get the care and attention your remodel deserves. Discover what a new office kitchen does for team morale, bonding, and productivity by calling Balbes Custom Building today!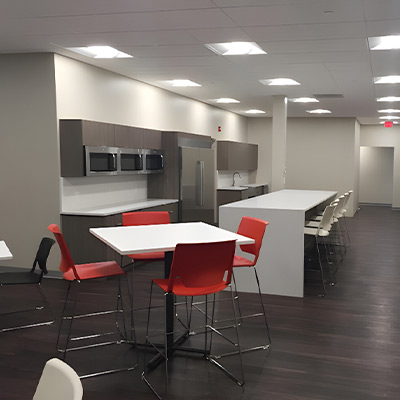 Get Your Free Estimate
---
Call us and relay your renovation idea so we can start the process with a free cost estimate.
(284) 884-0590
Experienced Commercial Work
---
Property guidelines and leasing contracts can make commercial jobs difficult, but not for an experienced company like Balbes Custom Builders. Our over 20 years of experience prove that we know how to navigate the challenges of renovating commercial properties. When you want a new kitchen for your office, know that Balbes Custom Builders can get the job done. We're cost-effective, experienced, and committed to you and your needs. Call us today for a free estimate on your new office kitchen.