About Balbes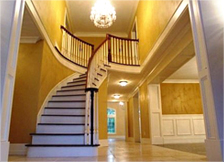 Custom Renovation, Remodeling, & Construction Experts in West Bloomfield, MI
Balbes Custom Builders has been proudly serving Orchard Lake, Birmingham, Bloomfield Hills and the surrounding Southeast Michigan communities for more than 20 years.
Your Satisfaction is Our Guarantee.
Our first priority has always been the satisfaction of our customers. We take great pride in the quality of our work and the quality of the customer service we extend to each and every one of our clients, regardless of the size of their project.
Balbes means experienced crews, direct communication with the owner, and stunning results for your West Bloomfield area home.
When trusting Balbes Custom Builders with your home remodeling project, you are trusting a crew of dedicated and talented home remodeling experts to take you through every single step of the process, and to keep you up to date on developments. We always treat your project – and your home – with the utmost level of care and respect.
---
We offer FREE estimates and financing plans to make your dream home affordable now, and pay for itself over time.
This is why we are happy to offer free estimates on any project, as well as a variety of financing plans to help you afford your home remodeling project without compromising your daily way of life. We also have a wide selection of materials to suit most any budget.
Whatever your home remodeling needs, we are happy to listen to your vision and help you create the environment that you dream of. If you own a home in the greater Bloomfield area, contact us today and make all your home remodeling dreams come true! For more information about our company, please contact us by phone at (248) 884-0590 or by filling out the contact form on the right. We look forward to hearing from you!
---