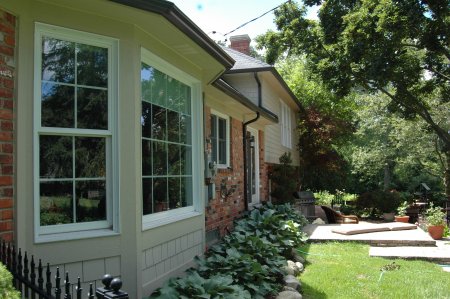 Putting an addition on your home can be exciting. When adding onto your home, you will have many decisions to make. Perhaps the most crucial decision you will make pertains to the way the addition will look from outside. When done properly, an addition can nearly pay for itself by raising your property value, but you must make sure that the addition complements the home's exterior aesthetics. We can all think of home additions we've seen in our neighborhoods that stick out like a sore thumb. By considering several factors before beginning the project, you can avoid having your addition become someone else's eyesore.
First, consider the existing building material. Is your home constructed of brick or stone? If so, you will want to try to match the brick or stone so that your addition complements your home in such a way that most people would think that the home was built that way. Similarly, if your home has vinyl siding, do your best to match the siding, or talk with an expert about a color that might complement your existing exterior. It's important to note that you don't always have to match the addition to the original exterior of your home, but when you don't, you should ask for color and material suggestions from the professionals. The simple mistake of choosing the wrong building material or color for your home's addition can easily result in your home's curb appeal diminishing.
Adding on to your home can make it feel brand new again, and it can bring new excitement and anticipation for homeowners. At Balbes Custom Building, we provide our clients with suggestions relative to outdoor appearance so the addition can add to both curb appeal and home value. Contact us today for a free consultation, and learn more about the ways we can transform your house into your dream home.