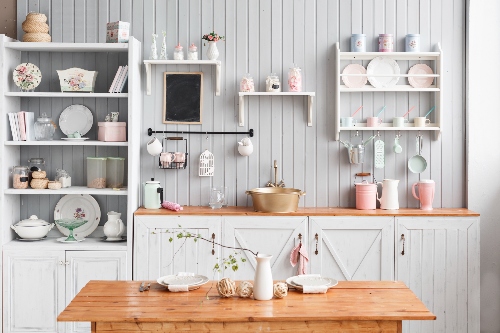 The kitchen is a hub in the home for activity, traffic, and good memories. A lot happens here, so making it share your personality and style is key for your family to be comfortable where they spend time. You can change small features of the room, including paint, furniture, and rugs to switch up styles that no longer fit. Planning is necessary to get into more substantial shifts, such as the cabinets, countertops, and the overall layout of the room.
Here at Balbes Custom Building, we always keep on the lookout for new kitchen design trends, styles, and options to share with our customers. Keep reading to learn about the kitchen design trends for 2020 and see if any speak to your style.
1. Sustainable Materials
Today, the word is eco-friendly. Taking care of the world is important to people, and that can start right in their kitchen. More and more, homeowners demand cabinetry built from sustainable materials. They also look for responsible manufacturing that produces their cabinets.
We work with several suppliers to ensure you can get the materials, products, and finishing touches you want.
2. Open Shelving & Deep Drawers
People want practical layouts. We have seen upper cabinets fall off recently. Open shelving has risen in popularity, especially for younger homeowners. Leaving the cabinetry open gives more energy into your room, ridding it of any cramped feelings. These open units also give you the option to add accents of decor or even accessories around your kitchen. Whether you have an array spices or some exciting mugs, show them off with open shelves.
3. Full Wall Backsplash
A full wall backsplash offers you a refined and useful feature for your sink and kitchen. When you tile a bigger area behind your sink, you can forget about the annoying cleaning routines of the past. A simple wipe down can get rid of all the spills or splatters from your sink. Combine this design with open cabinets closer at hand to have a continuous tile face up to the ceiling. Or consider a slab of marble to transform your wall into a work of art.
4. Double Islands
That open trend in the shelves and the backsplash layout shakes things up all over. Another way people spread out the surfaces in their kitchens is through double kitchen islands. Use your islands to help separate your kitchen from your living room, especially if there is no wall between the two. Use one island as a food prep counter with a sink or large drawers and the other to entertain with all the bar fixings or stop for a quick bite.
Getting What You Want from Your Kitchen
The options for your kitchen never stop. Creativity, planning, and knowing what you or your family needs will guide your kitchen from what it is now into what it can be. Choosing a contractor you can trust like one from Balbes Custom Building will ensure you get what you want from in your kitchen design and construction. We've seen a lot of design flops and wins in more than 20 years, so we can make sure you get the best.