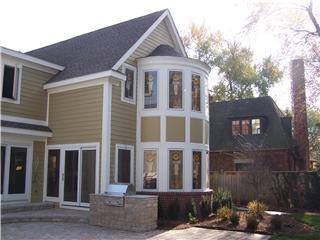 Blog originally published on May 22, 2015. Updated on November 16, 2022.
Maybe you want a little more space in your home. Maybe you absolutely love your home, have considered moving to a new home due to lack of space, but discovered that it would be far cheaper to simply upgrade your current home with a new addition. Maybe you are starting a new journey with a home-based business and could use the additional square footage of a home office.
There are many reasons for building an addition on your home. You are already intimately familiar with your existing home. You know its ins and outs. You've loved your home for years, but now you need extra space. When buying a new home seems like too big of a venture, you can always have one or more new additions built onto your home to add square footage.
Are you considering building a new addition? Let Balbes Custom Building help! Here are 3 common reasons for house additions.
#1: Kitchen or Living Room Space Is Too Small
Sometimes, when we first buy our home, the space in the kitchen seems fine. Then, after living there for a few years, we begin to notice the space limitations. Perhaps you always wanted a breakfast nook, or extra room for a kitchen table, but due to the limited space in the kitchen, you have had to forgo these ideas. Maybe you even wanted to add a stand-up freezer or freezer chest, but again found that you didn't have enough room.
Fortunately, in many homes, the kitchen is in the back of the house where you can expand the space with a new addition. This is much easier to do than selling your existing home and finding a new home with the ideal kitchen. If the kitchen is not located in a space that can be expanded, you can have an addition built onto your house and re-purpose the old kitchen into more family space to make the most of every square foot. Anything is possible when adding a home addition!
#2: Addition of New or Returning Family Members
Perhaps you are expecting a new addition to your family, already have a newborn in your family, or are moving aging parents or in-laws in with you. The lack of another bedroom gives many homeowners only two choices: either pack up, sell your home and find a new one, or build the perfect nursery or guest room addition to your home.
If you've considered additional square footage, new bedroom additions are among the easiest to add to your existing home, especially for two-floor structures. You could even give up your current bedroom and design the perfect bedroom for you and your spouse, which makes this second-story addition even sweeter. Ever fancy having a walk-in closet and your own bathroom attached to your bedroom? All of this is possible with a new addition to your home! Let Balbes Custom Building help you find a solution for the most practicality per square foot.
#3: Wanting A Sun Room or Greenhouse
The thought of winter brings many people down, especially in Michigan. Want to add in more natural light and brighten up your living space? You can have a greenhouse built onto your home complete with solar heating, or you could easily build a sunroom addition. An attached winter greenhouse is the perfect cure for the winter blues and helps to remedy cabin fever and seasonal affective disorder.
Get the Most Out of Your Home's Square Footage and Maximize Your Living Space
Whatever new addition you dream of, Balbes Custom Building can make it a reality. We believe you should be in love with your entire house, and there is no job we cannot complete on time and on budget. We can help you save money, create more livable square footage, and keep you in compliance with local building codes.
With decades of experience, we're experts in adding on to home improvement projects of all kinds. If you are planning on a new addition, converting an attached garage, or starting another remodeling project or home improvement project, contact us today!