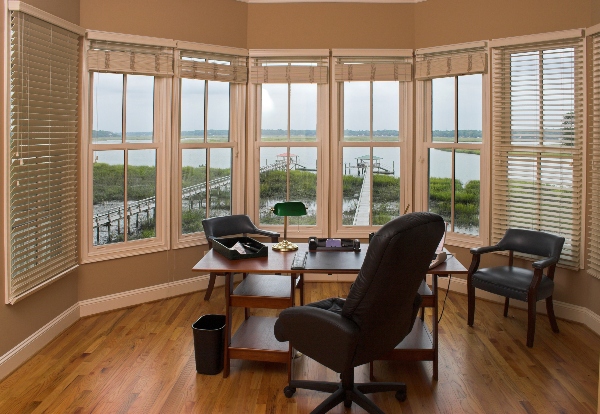 2020 has brought professional change for so many people.
With the health risks of gathering in large groups, remote work has risen this year to unprecedented levels. Many people find themselves working in a way they never have before. Whether remote work is a temporary switch or a permanent solution for your company, you may need some help adjusting to the new workplace.
Having a dedicated workspace is important to getting work done efficiently and helping you maintain a work/life balance. If you have never done this before, you may feel lost. Let's talk about what you need to set up a home office remodel so you can remain productive while working from home.
1. Choose a Room with a View
No one likes living or working in a cave. Unless you get seriously distracted, position your desk to face something other than a blank wall. A window is your best bet - it brings in natural light and will give you a chance to connect with nature or at least the outside world without leaving your chair. Another option is to point your desk toward the door. Otherwise, hang a nice picture or painting above your desk.
2. The Best Lighting and Noise Levels
According to the Canadian Center for Occupational Health and Safety, you can have fewer headaches due to eye fatigue with better lighting. Natural light is one of the best sources as it has been linked with releasing calming neurotransmitters. Add in a number of overhead lights and area lamps to the natural light so you can always set the right level.
Noise can be a big problem for you when you need to get work done. Consider a noise-dampening door for your home office. Noise-canceling headphones are another option that helps many people focus.
3. Creative Ideas if You Don't Have Much Space
It would be great if you had a spare room that you didn't use all ready to become your home office. Unfortunately, this is not most people's reality. Get creative with the space you have in your home. A closet or nook could become a workspace. You could have a desk that folds into the wall. Basements, garages, and under-stairs areas all make great temporary workspaces. A solid contractor like those at Balbes Custom Building can turn any space into one where you can get your work done.
4. Storage and Organization
Even organized people can have clutter build up before long if their home office doesn't get set up properly. Cabinets, drawers, shelves, and organizers all help you keep papers and work items organized. Don't forget cable clips and boxes for small items like pens and highlighters.
5. Avoid Injury with Ergonomics
We all would live healthier lives if we had the posture of a yogi. Until we have perfected our yoga practice, we can shape up our home office. Hunching over a laptop is a sure way to hurt yourself, if not that day, in the long run. A good chair will help you maintain the best ergonomic posture. Avoid things like back pain and carpal tunnel by:
Adjusting your monitor height to eye level,
Position your armrests so your elbow is above your wrists, and
Make sure your knees are parallel to your hips
Work with a Professional Contractor with Experience in Home Offices
Even if you will only work remotely for a small portion of time, make sure you have a good set-up. Now is not the time for extra stress or physical problems. Consider chatting with Balbes Custom Building about your home office situation. Our design crews can help you come up with a layout that will work for your unique situation and our construction crews will bring that vision to life.